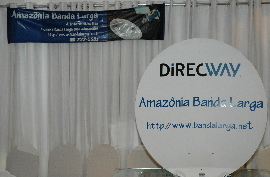 On January 12th, 2005, ABL was publicly launched at the DaVinci Hotel in Manaus beginning with an excellent powerpoint presentation by Michael Galvez, Marco Aurélio de Lima, and Rafael Guimarães, our Hughes Represen-tative. We then moved with over 200 guests to the hotel's private dining room where we had on display a Hughes DirecWay™ VSAT system providing a live internet connection for 25 computers networked together.
ABL is the first High Speed Internet provider that targets Amazônia. The internet connection provided by ABL is by means of satellite and is available now in all of Brazil, and eventually all of South America. Headquartered in Manaus, ABL is fully committed to bringing broadband to places in Amazônia that have no other means to connect.
Currently ABL offers two inaugural products in conjunction with its strategic partners. Our flagship product, of course, is broadband internet with speeds up to 1 Mbps for networks of up to 100 computers. This internet service, which also provides the capability of Virtual Private Networks is provided by Hughes Network Services.
Our second inaugural product is Voice over IP (VoIP) telephony, provided in conjunction with IP Phone Brasil, which allows Brazilians to make long distance calls to Brazil, the USA, Canada, Europe, and Asia for as little as 5¢ per minute to ordinary landline phones, and 1¢ per minute to other VoIP telephones.
ABL also offers consulting services for Information Technology and Telecommunications, and our plan is for ABL to evolve into a full service IT and Telecommunications company as well as expand our product lines to include portable satellite communications devices.